Monday, September 25, 2006
ORIENTEERING COMPETITION'06 (23/9)
woke up early in de mornin n went off 2 tampines, de challenger dere... i dint expect de bus 2 come so early n i reached dere lyk 7.08... when we are suppose 2 meet at 7.30... den aft dat nelson came.. stefan n zw came together n wymer was last... wymer fergot to bring watch! but lucky i got bring.. mr yeow was a lil late.. he came a few mins late onli.. lol... den got 1 woman in his car oso but alighted off.. tink iz his wife.. XD zw sat in front n 4 ppl squeeze at de back... it was a long long longgg way dere.. all de way until overshot jurong... de competition at Pasir Laba camp... accordin 2 mr yeow, dats de place where dey train NS men in basic combat.. haha.. he noes quite alot.. tink he has a high rank in NS last tym... den de carpark was full n so wad mr yeow did... anihow park his car as de side.. =x.. XD. den walked into de camp n got alot of shelters.. we went 2 de waitin area n prepared all de stuff we nid.. used guifeng yellow bag n we stuffed 4 bottles inside n compass whistle n all de crap... we were given number tags.. i tink my number was 263 or 273.. cant reali remember le.. LOL.. dint reali wait fer veri long.. was a lil gan jiong onli.. not veri gan jiong.. ya... first we registered, den received de map n checkpoints.. DE MAP WAS IN A PLASTIC SHEET N MUS WRITE ON IT?!?! disaster, cuz onli got pen n PEN CANT WRITE ON PLASTIC SHEET! nid marker seh.. dumb thing..=.=.. we tot GG le.. but lucky iz ink pen den it will stay if u dun touch it.. lol.. aft dat got briefin on safety rules.. which iz quite dumb.. everithin oso noe le... aft we plot finish le, let de ppl check n dey hlp us mark in marker.. loool.. heng heng.. n we waited fer de tym 2 start.. it started at 9.30.. we first chiong 2 de checkpoint which iz white house yellow roof! dere got lotsa houses la! n surprisingly.. we ran fer abit onli.. lyk a few seconds.. den reach first checkpoint le.. wth la..=.=.. dere were 2 white house wif yellow roofs.. n both were quite close.. we checked wif de direction n jus no choice n went fer 1 checkpoint.. den we headed fer de next checkpoint which iz a trainin shed.. IT WAS SO NEAR LA! less den 10secs reach le..=.=. n we took de checkpoint.. n nxt iz a bridge.. WHICH IZ SO FREAKIN NEAR OSO.. we overestimated it n overshot n bridge..=.=.. den we find find find n cant find.. until nelson noticed de contours n realised we overshot it n we got de checkpoint.. den de nxt one iz near.. but nids minutes.. by now.. timin already cock up already.. cuz we spent time lookin fer de dumb bridge.. de nxt checkpoint iz at de start of a bend.. dat one iz easy 2 find oso.. den headed off 2 nxt checkpoint.. which iz on a bridge on a small stream or drain.. easy 2 find.. aft got 5 checkpoints.. we had 2 go back to de path we took n head back to de end point.. we missed out one checkpoint cuz already runnin outta tym.. it was already 38mins+ when we reached back n de last checkpoint was lyk dam ulu n veri far.. had 2 overshoot de end point n run another direction 2 get dat checkpoint so we decided 2 giv dat up... we completed de orienteerin! score, 101... i guess it was still ok.. ya.. we began searchin fer mr yeow n wymer.. nobody in sight..=.=.. we find find find, so tired, but still findin.. in de end i found him aft so long.. wymer was in de waitin area all along.. cud not find him cuz he blend in wif de crowd..=.=.. wth la.. LOL.. aft dat called mr yeow to "report" dat we completed de thing.. n he went 2 hlp us check if other ppl got beat us or not.. n guess wad, WE WERE CURRENTLY ROUTE N OVERALL CHAMP! loool.. we were dam high den.. until stupit victoria n hua zong had 2 crush our happiness.. DEY GOT FULL SCORE LA.. =.=. wth.. but heng heng dey another route.. so still got chance 2 get route champ... victoria veri suei.. same route as hua zong n lost 2 em despite dey both full score.. hahaha.. so wad we did? we crap crap crap.. tok tok tok.. wait wait wait.. wait until de last batch went off le.. N WE WERE STILL ROUTE CHAMP! den now im dam freakin gan jiong le.. i cui mr yeow 2 find out de results n he told mi dat de paper of results iz printin.. den i was lyk.. faster faster faster.. dam freakin gan jiong la.. its lyk.. can die... i was in dat state of dyin condition of suspension fer lyk half an hour lidat.. waaaa. N FINALLY MR YEOW CAME BACK! he came back. gave us a cheeky smile n dint sae anithin.. den he told us.. win le la... or sumthin lidat.. n we WOOOOOOOOOOOOOOOOOOOOOOOO.. !!!!! aft 10 long years!! den we go scam rong xuan.. go sms him sae.. we lost, n apologised 2 him.. looool... ultimate scam.. den we were tinkin, i bet rongxuan calculatin how mani pumpins we mus do cuz he nvr reply.. den he reply n he was lyk sad or duno wad.. lol... so nxt we had 2 wait fer prize presentation.. n mr yeow was tellin us, everi year he owaes go home so early n by now he wud haf reached home le but dis year special.. hahaha... XD quite cool.. WE MADE HISTORY FER AHS NCC. we were dam high now la.. we were tinkin of de plague.. dreamin of it.. tinkin of touchin it.. den stefan was lyk sayin, later on de stage i wana lick de plague.. den mr yeow go luff.. loool.. while we waited mr yeow got tell us some stuff n got ask oso.. he oso grabbed more food 2 eat.. lol.. n finally prize presentation le.. first we got de medals n aft dat was called back again 2 get de plague!!! stupit clt at de backstage.. go pronounce as ahs as angelican high..=.= slap his face sia.. den aft dat when goin up de stage he wanted 2 pronounce again den i correct him n told him its anglican. den he lyk quite paiseh.. pronounce till bu 3 bu 4... den de mc fer de prize presentation go call de sch wrongly.. suppose 2 sae anglican high den she went 2 sae anglican boys or sumthin lidat.. LOL.. den took picture on stage n took wif de plague.. lol.. i went 2 sae, everibody mus touch de plague den mr yeow had 2 stretch his arm.. lol..
lol.. mr yeow smile till veri wide.. den tym 2 head back! hapi hapi hapi. while in de car, mr yeow enlightened us alot.. lyk de SAFTI n de ninja van.. lol.. de ninja van dam funi. its lyk a van which de army allow it 2 go into de camp 2 sell stuff 2 de army ppl.. n de van dam amazin.. in de middle of de forest, which iz ulu ulu one, u will find de van dere sellin stuff n its lyk a life saver cuz dyin inside n suddenly got one van wif a man offerin u coke.. lol.. but de stuff sell more ex.. hahaha.. dam lame.. den oso got SAFTI where qi lun iz at now, deyy train high rankin officers n commandos.. n stuff.. haha.. we alighted off tanah merah mrt station den we went 2 tampines 2 eat mac! loool.. while in de car got receive lotsa sms congratulatin us frm part C's... can tell de Part C's dam high la.. lol.. dey oso veri veri veri hapi.. 10 long years... we haven won.. den zhenghan treat us 2 pizza todae which he promised 2 on sat.. mr yeow, mr chua, rongxuan n he himself got pay.. lol.. =) wooo
ALL THE WAY BRAVO!
Based on: 4:46 PM ,
Secrecy


Saturday, September 23, 2006
todae iz wantings bdae! =) jus wana dedicate dis post 2 her wishin her hapi hapi bdae...! sounds lao tu.. but got no new versions of sayin it so nvm..=x.. N DUN TOK 2 MI ABT ORIENTEERIN COM.
HAPI BDAE MEI! <333
Based on: 7:52 PM ,
Secrecy


Monday, September 18, 2006
ok veri long no post le... so i shall jus squeeze a post in.. lately has been quite ok.. not reali hapi nor sad.. ya... moodless days.. todae dam sian sian sian... in class nth 2 do.. den lessons so long n borin oso... pe quite fun bahx.. played floorball, n i guess i will be goin back to club trainins.. but not dis wk cuz dis saturdae got orienteerin com.. im quite pressured already.. im afraid i will pull de team back.. i scared i will cock up.. i scared we wun win... scared dis scared dat.. jus forgiv mi if i make mistakes... i jus hope all goes well dis sat.. ya... wa! jus received msg.. tml got orienteerin trainin.. mus bring no.4! small bag! so mani things! waaa... tml shud be runnin wif de bag n long 4... i scared i cant make it.. LOL. ok post till here. TML LESSONS ARE GONA BE SO SIAN!
Based on: 7:16 PM ,
Secrecy


Friday, September 08, 2006
todaes iz dear dear's match again.. jus wana dedicate dis post 2 her, wishin her GD LUCK!!!!!!!! =) =D
Based on: 11:52 AM ,
Secrecy


Thursday, September 07, 2006
YAYYYYYYYYYY IM SO FREAKIN HAPI!!!!!!!!!!!!!!!!!!! LOL.. im unrottin!!! dats gd!!! firstly, todae hexian,roy,sk n keithy visited mi! loool... keith came 2 plae my FF9.. den i guided him.. n de rest came 2 take my maple items? while takin dey lost my gold snowboard.. dey dam freakin sad lol.. but i dun care.. LOL.. it was suppose 2 be roys one? ya... den we played death dai dee!!!! surprisingly, everibody kena de death penalty once.. wad izit? dun tell..=P SE-CR-ET... plae plae plae plae plae.. n dats wad we did! n made mi hapi n not bored..=) aft dat we go mac eat.. which iz not so long ago.. i jus came back frm loyang point.. i ate 1 CB onli.. its cheeseburger btw.. den i use my mac points 2 change fer 6pcs mcnuggest n guess wad?!! i press den de machine nvr print out de recept!! waaa!! i tio scam la! den i ask de man. n he said, er.. its slow n mus take 5 mins.. den mi n hexian was lyk sittin by de machine.. n startin at it till de recept come out..LOL.. we looked lyk retards la.. ya.. aft lyk 4 or 5 mins. it came out!!! den i faster chiong n grab it.. LOL.. =x.. n now im home postin.. tml iz zhen's bdae party!! GOT BBQ!!! FREE FOOD!!! GD FOOD!.. but i haven got him anithin so im gona chiong tml.. ya. IM UNROTTIN!
HAPI hapi HAPI BDAE GELIN!!! <33333! love ya lots.
Based on: 6:59 PM ,
Secrecy


Tuesday, September 05, 2006
waaaaaaa... holidaes so darn borin!!!!!!!!!!!!!!!!T.T.. i tink im jus gona rot at home la... no trainin, no plans, nvr go out, sian la!!! but i shall not rot! im gona survive.. de worse thing iz. onli got 2 piece of hw la! maths, 3 qns... n 1 elit poem... zZZZzzzz. no trainin due to senpai's SSC... >.<.. nvr go out cuz everibody seems busy... haizz... todaes iz dear dear match... gd luck! =)
Based on: 12:43 PM ,
Secrecy


Sunday, September 03, 2006
day 2 of annual camp,
last nite slpt at abt 2.45 la.. lol.. den woke up at 7+.. zzZZZz brushed teeth den went dwn 2 assemble.. we had 2 assemble by 7.55.. we ate breakfast first n we had prata!!! =) den got dis lame thing.. dey ask us dam freakin lame qns n if we guess correct, we mus take an item frm de container n use it 2 drink chng teng.. LOL.. was quite lame.. yiyang answered correctly de most tym la.. lame king.. aft dat got war game!!!!!!!wooo hooo!!! de long awaited best game. de rules were.. bottles are given n possesion of bottles got points.. de life of a player iz de coloured bands tied on our arms.. onli 1 knot iz allowed.. i was in yellow team! altogether got 3 teams, blue red n yellow. our base was outside de stadium... we did not reali bothered abt de bottles.. we onli bothered abt gettin lives..LOL... i was de slacker.. our team attacked by gangin up.. we gang up on 1 or 2 guys n rape em.. hold em down n rip off deir life... =) im de slacker.. i jus squad at one corner n watch de big battle.. den when i see a backstabber hu wana attack my ally.. i will walk up 2 him.. tap him n make him tink im his ally.. n den i will rip off his life! muahahaha.. i backstab backstabbers.. lol.. quite slack.. got once. when blue n yellow team chiong.. its lyk lotsa ppl.. den i was in de middle of de battle, tyin my shoe lace..LOL.. i was left alone.. =) so i jus squad dere n backstab..ahahahaha.. once when i was alone.. i got attacked by jonneh.. super strong guy.. i tot i was gona die.. gerald wanted 2 save mi but he got cornered oso.. jonneh hugged mi reali tight n i tried 2 slip thru his arms but 2 tight le.. when he gona rip off my life.. i ram him against de door reali reali hard n den de sign on de door dropped! LOL.. den we said stop n i put back de sign. den i faster run off...HENG SEH!!! my team killed de most ppl.. dere were some conflicts n violents durin de war but in de end all worked out fine.. due 2 forgivin.. durin de last battle.. was de most hiong.. everibody chionged together but i was preparin an ambush.. i was alone n i took a detour n went 2 de back of de enemy's team.. den 1 or 2 ppl were behind slackin so i backstabbed em n took away some lives..muahahaha.. =x . XD.. soon de game ended n my team won! LOL.. so cool.. we had no bottles but had lotsa life.. lol.. in de game i had a total of 0 death n duno how mani kills.. =) aft war game we had station games.. nth much 2 tok abt so i jus skip 2 AMAZIN RACE!!! woo hooo!!! we were given a paper wif de tasks on it.. den we mus go de place n complete de task n ans de qn.. first we went 2 changi airport! we mus go dere n eat lunch n take a pic of us eatin lunch at changi airport.. yupyup. LOL..
de part A's eatin BK..
aft dat we went off 2 bengawan solo 2 find out de price of a black forest cake.. LOL.. it was easy.. cuz luckily airport got bengawan solo.. den we had 2 take a pic wif an air stewardess!!! dere was veri lil air stewardess la! when we spotted one.. we faster followed her till de carpark LOL..!!! den managed 2 catch her n ask her if we can take a pic wif her.lol.. tink he was reluctant but in de end still took..
gerald n willie wif de air stewardess. quite chio.=x
den we tot hao le.. but i checked de paper but it saes GRP FOTO!!! NOOOOOOOOOO.. den we went 2 find another one.. SIAN!!! we camped n camped but dere was none.. den willie decide 2 carry out operation sweet... LOL.. de info counter has lotsa FOX sweets n veri nice.. so we camp near de counter n wait fer a person 2 tok 2 de lady.. den 1 man tokin 2 de info counter den lady de tym.. we all chiong 2 grab de sweets la!! cuz counter onli 1 lady..LOL.. we grabbed a lot LOL.. so lame la!! n de lady jus refilled de sweets cuz before when we wana steal.. dere was none..=x.XD LOL.. den aft we stole n sweets. we found an air stewardess!!!! den we chiong towards her la! lol.. den i ask if can take pic wif her n she agreed dam quickly lol.. den we ask one man standin near-by 2 hlp us take..
stefan went 2 put a bunny ear at de lady la! wth..=.=..LOL..i was standin beside her!! =)
den we headed off 2 TM! suppose 2 go expo but i noe de ans le! THNX WANTING! =D.. tytyty.. LOL.. reached TM n saw zheng han.. den he decide 2 follow us.. he wasted 45 cents lol! cuz he went up de mrt platform n saw us den went down n out again.. hahahhaaha.. went to de HELLO shop first n nid 2 find de price of a N73.. lalalalala.. was easy.. den headed 2 Pretty in TOkyo to find out got how mani neoprint machines.. so gay la.. LOL.. den dey sae wana take neo but i dragged em out.. den gerald got fascinated by 1 ang moh's hair la! den he went 2 take a pic of it..LOL.. it was dam cool.. aft dat.. willie wana buy hair band la! =.=.. cuz he finds it cool.. den dey went 2 mini-bits n buy hairband.. everibody was starin at em LOL.. zhenghan, willie, yongping n gerald bought a hair band each.. wth la! dey all bought white except fer yongping.. he buy pink.. den dey nvr wear at de hair.. dey put it on deir necks la.. dey sae its de latest trend..=.=.. lame.. aft TM we headed fer ajunied.. when we reach ajunied mrt station, we mus count de no. of top up EZ link card machines.. den zhenghan wasted another 45 cents! he tap his card n went out.LOL.. we stayed inside n counted de machines.. n left le.. total got 4..LOL.. dam funi.. went back into de mrt n willie sae 1 zhaboh wif de same hair band as him! n at de same place! de neck!LOL. she tio stun n willie faster remove de hair band LOL.. ahahahahahaha... went back 2 sch n we got pang sai spree!!! everibody went 2 de toilet n poop.. ahahahaha.. aft dat went 2 street soccer court.. i jus sat by de side n slack.. at 5, we assembled n aft dat got prize presentation! my grp won nth but nvm, it was dam freakin fun.. at nite got buffet n eat eat eat..
stefan got raped when eatin cuz dey wana noe his stead LOL.
aft dat de sir toked 2 us n DE CAMP WAS OVER.. everibody went 2 rape zhenghan lol!!! dey hold him, den put de ice on his.. den dey put de ice below his body n tau pok him!! he not wearin shirt lol.. den i went home straight away cuz parents waitin fer mi le.. dis yrs annual camp rocks! =) ty committee senpai-s.
Based on: 11:16 PM ,
Secrecy


AHS NCC ANNUAL CAMP 2006!!!! WOOOO it was frm 1st sep-2nd sep. yupyup.. it was so so so fun.
day 1,
started of de camp wif splitin into our grps... i was wif gerald,leon,stefan n zhengwei! part C's were willie n yongping.. but willie joined us later... ya... at night den join. first we went 2 our bunks n organised de stuff.. shifted table chairs n swept de floor.. ya... den in de bunk we tok tok tok n stuff.. loool.. den aft dat got ice breakin game! we played whacko.. looool.. we gang yongping n started de AYP and NYP thing.. AYP is anti-yongping and NYP is naked-yongping..LOL.. quite dumb... i tink gerald tot of it... aft whacko iz we tink of de grp name n cheer.. our name at first iz chio bu.. budden got other grp oso lidat so we changed it to chio butt... quite lame la... den de cheer n everithin was cock up... den it was presentation.. mus present our flag n grp cheer... our cheer dam shit.. ya... other grp one quite funi...loool... aft dat was err... lunch? cant remember.. shud be bahx... we went 85 fer lunch! lol... i ate nasi lemak.. eat a lot cuz de aunty giv a lot... aft lunch we come back sch n plae games.. got soccer, bball n captains ball.. i played captains ball cuz got de least ppl plae.. played fer awhile onli n was veri worn out.. maybe cuz of de weather bahx.. was dam hot.. so we jus sat in de shade n slack.. den we began drawin on de netball court floor..=x.. LOL.. we used sticks n de woodchip.. ya.. we wrote all kinda stuff.. lyk patte wong n all de moronic stuff..LOL. aft dat we prepared our stuff n we went kallang river fer DRAGON BOAT!!!! woooo.. it was dam freakin fun la.. yupyup.. we row row row.. lol.. hands lil suan when de rowin gets long.. i was in de same boat as mr chua la.. lol.. quite suei.. den got one exercise mus sit at de ledge of de boat n rock here rock dere.. dam freakin fun..LOL.. den we went into de water.. n de instructor told us 2 do a water dance fer mr chua la cuz its teachers day!!! waaaa.. LOL.. den we began spinnin arnd lyk duno wad.. LOL.. den he was lyk luffin.. den we fall-in on water n duno do wad oso la..=x.. LOL. aft a while den he let us back onto de boat... aft dat got race! total got 4 boats.. first race we got 3rd! sian.. den de 2nd race we got improvement! got 2nd.. yupyup.. aft dat went back sch fer dinner.. den on de bus back.. mi n yongping took a gay pic lol..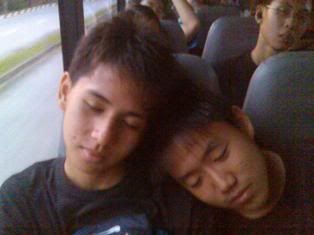 went back sch n had chicken rice fer dinner.. de taste tasted familiar but nvm. was so hungry..LOL.. den aft dat went to de classrm n watched de movie JU-ON!!! loool.. was dam nice.. sorta.. its lyk everibody started dyin derh la..LOL. =x.. alota ppl quite scared.. dey dint dare 2 watch de ghost parts.. dey were coverin deir eyes.. i jus watched thru out de thing.. wasnt dat scary la.. except some parts quite erxin.. esp de ghost.. white white one. aft movie got nite walk.. de dumb nite walk took dam long.. alota ppl dint dare 2 walk.. cuz dey kept on scarin de ppl wif stories n de movie contributed 2 fear.. at first a lil fear did gripped mi.. but i wun allow fear 2 overcome mi..=D lol.. abt 11 ppl dint dare 2 take de walk.. 2 scared le.. ya.. it was lyk 12+? i took de walk at 1+.. im de last grp dat went.. we went in grp of 3s.. i went wif leon n 1 sec 1 guy.. de sec 1 guy dam funi.. he was lyk so freakin scared den kip on askin mi 2 walk faster.. i was jus walkin at normal speed.. his voice shivered as he tok.. de first stop we went into de toilet.. john was under de sink.. i spotted him immediately..LOL.. den elton n yuelong in de cubicle.. i walked pass n yuelong jumped out 2 scare mi.. n jus stared at him.. elton jumped out later.. i jus dao him n walk outa de toilet.. LOL. aft dat headed off to downstairs? ya.. den i mus go alone to de classrm wif a table n a candle on top.. it was infront of de board.. den i mus sing a b'dae song 2 ju-on n stare at de whiteboard.. was dam dark...den i sing sing sing n wait wait wait.. nth happened.. so i went back down.. aft dat went back 2 canteen.. looked fer edmund n went 2 concourse.. den had de clue fer free lol.. den went back 2 canteen.. in de canteen joel n chengjun crawled out n scared us.. i ignored joel n grabbed chengjun''s hair..=x.. den at de corner willie jumped out n wana scare mi.. but in de end i got no reaction n leon, who iz walkin behind mi, got scared..LOL.. den de thing ended..SO LAME.. den went back bunk n slp!!
Based on: 10:27 PM ,
Secrecy